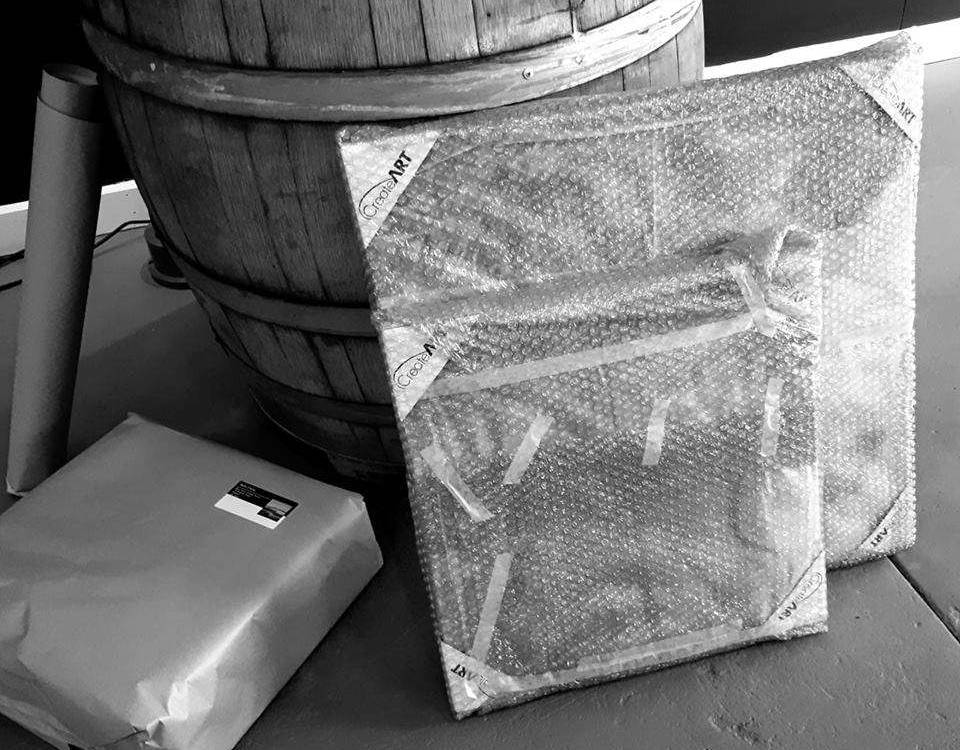 Purchasing the Art
How to Purchase Via This Website
Each listed work on this website is currently available and gives you the option either of making an enquiry, or purchasing via Paypal, or both. You may wish to enquire about the work first.
Where there is only the option to enquire, this indicates that the painting is currently placed at another venue, where it can be viewed and purchased. Full details will be supplied upon enquiry.
If you are interested in commissioning a work and would like to browse through a full list of previously sold and archival works for ideas please go to www.stellaclarke.com.au.
Payment may also be made by direct bank transfer, so please ask if this is your preference.
Postage and Delivery
Where you have the option to buy via Paypal, and you reside within Australia, packing, postage and delivery from the studio are included in the price.

Your painting will be delivered to you well-packaged, tracked and fully insured.
If you are an international client, shipping will need to be discussed and added to the cost of the work; so please enquire/contact the artist before purchase.
Viewing in Person before Buying
Stella's works may be viewed either at the studio gallery, or at other galleries that carry consignments of her work. Individual works are accompanied here by relevant details.
Appointments may be made to visit the studio at Blue Stone Cottage in Haddon by calling or texting Stella on 0475521501, by emailing stella.clarke@outlook.com or by using the contact form on this site.
Additional venues that stock consigned paintings by the artist:
Pricing
As regards the pricing of artworks, we aim for consistency (regarding studio or other gallery stock). Pricing is dependent primarily upon the size of a painting. By way of example, the range of pricing is between $450.00 for a 30 x 30cm painting, up to around $8000 for a work approaching 2m in width. Framed works require slightly higher pricing. Prices may increase slightly over time, to accommodate rising costs amongst other factors. Multiple purchases, or buyers who collect the artist's work can achieve favourable terms upon enquiry.
The Presentation of Paintings from the Studio
All paintings are created in oils or acrylics on high quality canvas and stretchers. They are signed on the front and on the back. They are ready to hang. Some may also be expertly framed, and that information will be available with the image.
When purchased via this website, buyers will be presented with a Certificate of Authenticity, along with records of the transaction which will establish their painting's provenance.
Returns
Every endeavour is made to provide images and details about artworks that are fully representative. Buyers may rely upon the fact that the artist's work is of a consistent quality. We hope that buyers are very happy with the work they have chosen when it arrives.
We would advise that before taking the option to purchase, you have a look at our 'Top Tips' page.
Returns and refunds may be possible, and your reason should be discussed immediately upon receipt, by contacting the artist.