About the Artist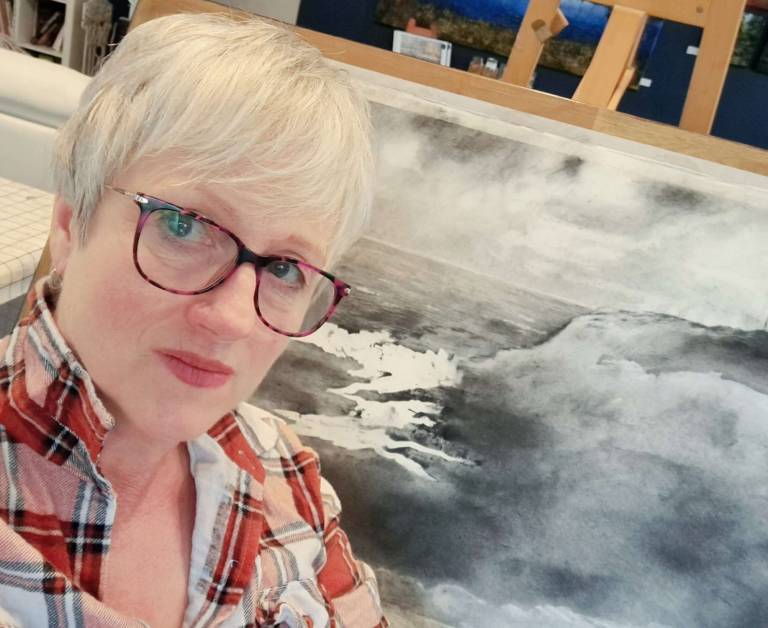 STELLA CLARKE
(BA Hons., MA, PhD)

Contact:
mobile: 0475521501
email: stella.clarke@outlook.com
Stella Clarke is a British-Australian artist, with a studio in Haddon, just outside Ballarat in regional Victoria. She was born in East Anglia, in the UK., but has lived in Australia for many years. Stella's main focus is landscape painting, and she finds inspiration from locations across inland and coastal Victoria and Tasmania, as well as from her rural bush-block where she loves to explore a small pocket of landscape and its changes.

Stella immerses herself in her chosen regional landscapes, taking photographic, plein air or written notes, which she later uses as a basis for painterly composition and lyrical interpretations in the studio. She works in oils or acrylics (and increasingly with eco-friendly products), on canvases covering a range of sizes from small up to two metres wide. She has developed a distinctive style, which exhibits harmonious tonality, energetic expression and dynamic composition. Her aim is to create visually stimulating and emotionally resonant works, which are homage to the beauty of the natural world, and which add something special to your home or work environment.
For Stella, landscape painting is a matter of caring both for ourselves and for the biosphere; if her paintings remind us why we need and love our natural environments, then they may help us, in some small way, not to lose them. Recognition is important in this regard, it is the basis of the realist bias of these expressive works.
Stella also enjoys painting figurative pieces, and artworks that are more graphic in style. These paintings, inspired by nostalgic themes, have been popular for some years, and the style is sought after for commissions. These works are based upon archived or vintage photographs, from which the artist builds evocative and decorative works. They have been a tribute to the ordinary, mid-century memories and experiences of women and children.
Stella has exhibited and sold successfully, for more than a decade, in a number of galleries in Melbourne, regional Victoria and interstate. She is now pleased to have established this new studio gallery space at Blue Stone Cottage, her Haddon home. Here, she creates her paintings, welcomes visitors by appointment, and arranges for the sale and shipment of available studio stock through this website. A number of galleries (detailed in her CV on this website) also exhibit her recent work. Please note that pricing is usually consistent across all venues.
A NOTE ON THE FUTURE OF ART
Art is a soulful act, a special kind of communication. Traditional modes of selling paintings (which most artists must do to survive and thrive) did not involve contact between buyer and artist. Now, however, the role of galleries is rapidly evolving as a result of digital technologies. Buyers in the internet age expect to be able to connect to artists directly. Galleries still do what they do best, but new modes of communication open up the possibility for constructive relationships between art-makers and art-lovers. Chatting to an artist about their work on social media, why they paint what they do, and visiting a studio to see the creation of artworks, is now more of a possibility; and artists can better understand the ways in which their work connects with other people, the potential it has for enriching their lives.
Stella is happy to discuss her work on Facebook and Instagram, over the phone or in the studio. If you feel like dropping in to see what is going on in the studio, just text or email us here. Stella's work is available for sale through selected galleries, online from this website, or from the studio. Details are available upon enquiry. She is also happy to take on commissions of new work, or based upon previous work (you can browse archived work at www.stellaclarke.com.au).